Crypto.com is one of the fastest-growing crypto apps in the world. This online platform renders you enough access to all the vital facilities such as exchange and Defi wallet to invest in cryptocurrencies. Many investors use this platform to purchase, sell, trade, and store cryptocurrencies. Besides, you can easily Swap Coins On Crypto.com.
As soon as you have purchased a cryptocurrency with fiat, the swapping world of cryptocurrency will open up. Swapping does not utilize conventional financial rails, unlike purchasing and selling crypto, because it does not involve fiat currencies. With the Crypto.com wallet, you can easily swap the crypto-coins of your choice.
Also Read:- How to Buy Saitama Inu on Coinbase Wallet?
Things to know about swapping coins on Crypto.com
Crypto.com DeFi Wallet app supports the following protocols for its Swap feature:
Sushiswap
Pancake swap
Spookyswap
DeFi swap
VVS finance
Trader joe
1inch V4
Did you know that the mechanism of trading and swapping coins are the same? However, the difference in outcome is essential. If you trade crypto, it means you are performing the trade according to the order book. Additionally, you can execute the trade based on the available trading pairs on the specific exchange. This is the exact process of swapping, but you will do it more flexibly.
Yes! You can swap any cryptocurrency for another, even if that pair is not live on the market. This process removes the need to pay transaction fees more than once. When you swap a small amount, convenience is the biggest concern. Remember that the crypto-swapping concept is suitable for any level of volume. You can easily swap the coins on popular platforms such as Crypto.com according to your needs.
In many cases, crypto swapping is the best and immediate solution for your requirements, although it has nothing to do with the profit. The swap function lets users swap crypto coins without prior trading knowledge. The whole process is super-fast and straightforward. Thus, crypto users will follow the process without confronting any hassles. When it comes to swapping crypto on Crypto.com, you should consider two critical factors such as:
Platforms or venues you use for swapping the crypto. It includes centralized or decentralized exchanges, Defi wallets, and peer-to-peer marketplaces.
Next, you should pay attention to where your crypto coins go after swapping them. The primary options are swapping coins into the crypto wallet you control (self-custodial wallet) and into the crypto wallet that someone else controls (centralized crypto exchange).
Steps to swap coins on Crypto.com
Are you thinking about How To Swap Coins On Crypto.com? Remember that the Crypto.com wallet has an in-built swap function that allows you to swap the crypto coins effortlessly. But, it is necessary to follow the below-mentioned steps carefully.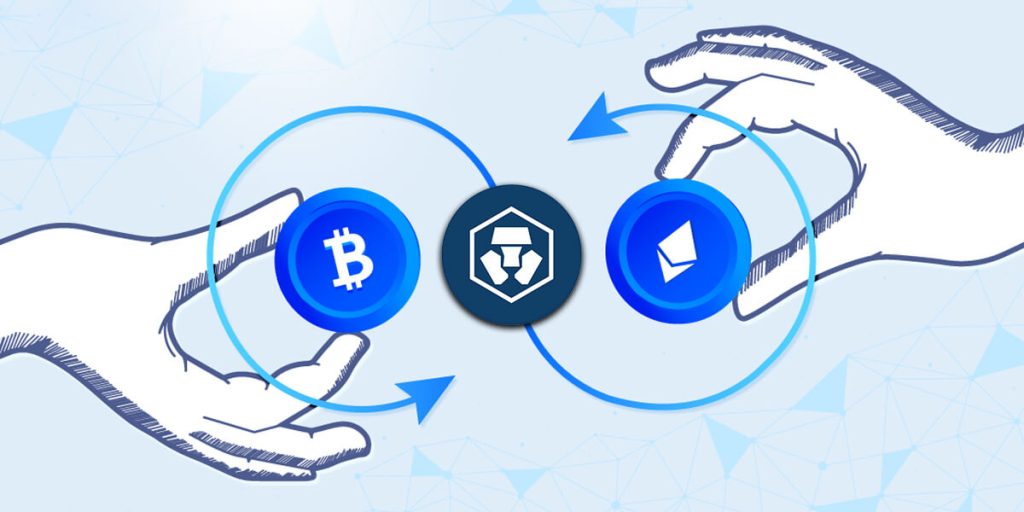 Open the Crypto.com wallet on your device
Tap the "swap" button on the app's home screen
Choose the coins you wish to swap. For instance, swap from Bitcoin – Ethereum.
Enter the number of crypto coins you want to swap. You must input the amount in the swap "from or to" coins. Then, tap "swap."
Check the details such as network fees and press the swap button to confirm
Authorize the transaction with your 2FA code and passcode if it is enabled
If everything is correct, the swap transaction will submit successfully.
You must wait until the swap is confirmed on-chain. Once the transaction is completed, go to the corresponding wallet to check the balance.
Reasons to swap coins on Crypto.com
Swapping crypto renders flexibility and lets you gain the position you wish in the flow of things. Whether you use decentralized or centralized exchanges, it assists you in being more conscious of the ever-changing crypto value. Remember that you should not make crypto swapping to make a profit. Or else the entire process is convenient and trouble-free. There are plenty of reasons for swapping the crypto coins for another on Crypto.com.
Some of them are diversifying the crypto portfolio and swapping to the lower transaction fee chain. Next, users utilize the swap option to escape the crypto volatility. The value of the cryptos such as bitcoin and Ethereum is changing every minute daily. Since there is no market open and close like in traditional stocks, users need to make a smart decision to safeguard their investment. Trading usually takes 24×7 throughout the year, and thus swapping coins for stable coin is a reliable way to escape crypto volatility and grab other benefits.
Fees for swapping coins on Crypto.com
The fees for swapping coins on Crypto.com completely depend on the platform and payment method used. For instance, if you swap the coins on a decentralized exchange, it is necessary to consider the network fee for transacting on the blockchain. In addition, you must check the fees for accessing the exchange. In general, decentralized exchanges have the lowest fees for accessing this service. Apart from that, exchange services charge extra fees for facilitating trades. So, try to make the larger swapping to lower the overall fees.
Reach the customer support
If you cannot swap coins on Crypto.com or confront certain troubles, you can seek help from a professional. Crypto.com allows you to connect with the customer support team to solve issues regarding crypto transactions. It means users do not need to look here and there to find the solution to their problems.
Users can connect with crypto.com through the in-app chat feature available within the app or send an email to the Crypto.com support team at [email protected]. Users will get an immediate response from both options. So, they can utilize the right method suitable for their needs and convenience.
Conclusion
Now, you know in-depth Swap Coins On Crypto.com. Try to use the abovementioned steps to easily swap the coins of your choice. You can also seek the experts' assistance when confronting troubles while swapping coins. Both the Crypto.com app and wallet are safe to use. It helps you to do multiple things, such as buying, selling, and swapping coins, without any risk of fraud.
Swap Coins on Crypto.com (FAQs)
Does it cost to swap coins on Crypto.com?

When you buy Crypto with a credit card or a debit card, there will be a 2.99% fee, although when you exchange Crypto with your account, there are no fees.
Can I take my coins off Crypto.com?

The KYC verification process must be completed before you can withdraw Cryptocurrency from your Crypto.com exchange wallet. To withdraw your cryptocurrency, go to crypto.com/exchange and click login (upper right-hand corner).
How does the exchange work on Crypto.com?

The purpose of an exchange is to connect buyers and sellers so they can trade assets at specific prices. The platform enables market participants to transact without the hassle of finding buyers and sellers.
Can I withdraw all my money from Crypto.com?

It is possible for Crypto.com users to withdraw USD from the app by selling Crypto to their USD fiat wallets and transferring USD funds from these wallets to their U.S. bank accounts.
Why can't I withdraw my money from Crypto.com?

Currently, Crypto.com does not support fiat withdrawals, so you cannot access your money immediately. Fiat money can only be accessed through Crypto.com by selling your crypto.