Do you want to find out how to withdraw Bitcoin from crypto.com? If yes, then look at this blog and read further to explore how to withdraw bitcoin from crypto.com. In general, crypto.com is the most popular platform to buy, sell, and store cryptocurrencies. The crypto exchange provides a secure and user-friendly environment for millions of users worldwide to transact with various digital assets, including Bitcoin.
If you have any doubt regarding the process of withdrawing bitcoin from crypto.com, then proceed with this guide further. Here you can go through the step-by-step process that ensures you withdraw funds confidently and efficiently.
Also Know: Where Can I Complain About Crypto.com?
Steps To Withdraw Bitcoin From Crypto.com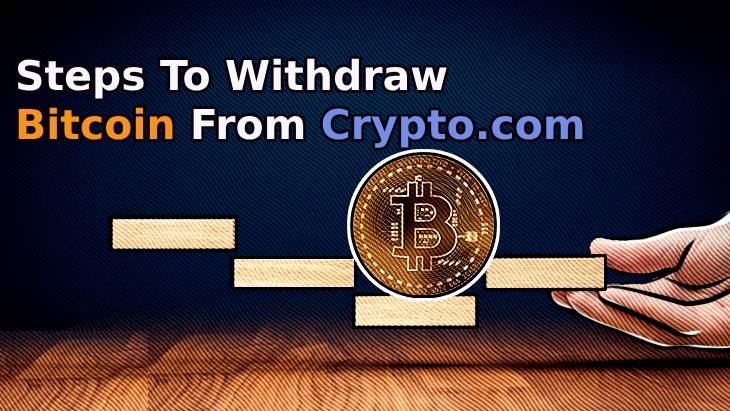 Have a look at the below to go through the steps to Withdraw Money from Crypto.com:
Step 1. Log into Your Crypto.com Account
At first, you need to log into the official Crypto.com account. You must use the secure & trusted device to access the account. You can sign up on their official site or mobile app when you need to create the official account.
Step 2. Verify Your Identity (if Necessary)
Before initiating a withdrawal, Crypto.com may require you to complete a verification process. It is part of their security measures to ensure your account's safety and prevent unauthorized access. You need to submit your personal identification documents like driver's license or passport for the verification process. The process may take some time to complete. However, you can skip to the next step if you have already completed this step.
Step 3.Enable Two-Factor Authentication (2FA)
It is best to enable Two-Factor Authentication to add more security to your Crypto.com account. After that, you can get the unique verification code on your device every time when you are going to log in or withdraw funds. It significantly reduces the risk of unauthorized access, protecting your Bitcoin holdings and other assets.
Step 4.Link Your External Bitcoin Wallet (Optional)
Crypto.com offers the option to withdraw Bitcoin to an external wallet. If you prefer this method, you must link your external Bitcoin wallet to your Crypto.com account. Now you have to go to the "Settings" option and choose the "External Wallet Addresses." You must follow the instructions properly to add your wallet address. Double-check the address carefully to avoid the major mistakes. It is must since sending the bitcoin to any wrong address may lead to loss of funds.
Step 5.Navigate to the Withdrawal Section
Now that you've completed the necessary security measures and linked an external wallet (if desired), it's time to withdraw your Bitcoin. Go to the "Wallet" section in your Crypto.com account and choose the cryptocurrency you need to withdraw.
Step 6.Enter the Withdrawal Amount and Address
You can find a form in the withdrawal section where you can fill the bitcoin amount to withdraw and the destination address. If you send the funds to an external wallet, paste the correct Bitcoin address you linked earlier. Take extra care to ensure the accuracy of the address to avoid any potential loss.
Step 7.Review and Confirm the Transaction
Before finalizing the withdrawal:
Take a moment to review all the details you've entered.
Verify the withdrawal amount and the destination address.
Confirm the transaction once you are confident that all the information is accurate.
Crypto.com may send a confirmation email or require you to enter your 2FA code for additional security.
Step 8.Wait for the Transaction to be Processed
After confirming the withdrawal, your request will enter the processing stage. Crypto.com typically processes withdrawals promptly, but the time it takes for the Bitcoin to arrive in your external wallet can vary depending on network congestion. Be patient and monitor your external wallet for the incoming transaction.
Utilize Crypto.com's Support Resources
If you face any issues or have questions about how to withdraw bitcoin from crypto.com, Crypto.com provides a better support system. Access their knowledge base, FAQs, and user forums for solutions to common problems. Additionally, you can reach out to their customer support team for personalized assistance.
Consider Crypto.com's Crypto-to-Fiat Features
If you want to convert your Bitcoin to fiat currency (e.g., USD, EUR, etc.), Crypto.com offers various features to facilitate this. The platform provides options to sell Bitcoin for fiat directly, making it more convenient for users who want to access traditional currencies quickly. Be aware of any conversion fees and exchange rates when utilizing this service.
Plan Your Withdrawals Strategically
During periods of high volatility in the cryptocurrency markets, it is essential to plan your withdrawals strategically. Timing can significantly impact the value of your Bitcoin holdings. If withdrawing to lock in profits, consider the market conditions and potential fees before moving.
Conclusion
From the scenario mentioned above, now you have explored how to withdraw bitcoin from crypto.com. You can proceed with the process effectively by following this step-by-step guide to withdrawing Bitcoin from crypto.com.