When trading in cryptocurrency, security remains paramount. Binance, a leading global cryptocurrency exchange, provides the option of Two-Factor Authentication (2FA) to protect your accounts from threats and risks. But what happens when your 2FA verification confronts errors? This article will guide you through the main Errors faced with 2FA on Binance including incorrect timings, syncing issues, lost authentication methods, and server problems with Binance. Also, you will know, How to Access Binance without 2FA.
Also Read: How To Connect Safepal Wallet To Binance?
Why is 2FA not working on Binance?
2FA problems can pop up due to many reasons.
Sometimes, it's as simple as your device's clock being set to the wrong time.
At other times, it might be because your device does not bond well with Binance's servers.
In the worst-case scenario, your account might be compromised, or the keyring (authentication device) might be lost.
In very rare cases, the fault could lie with Binance's servers.
Follow the Steps to Fix 2FA Verification Errors on Binance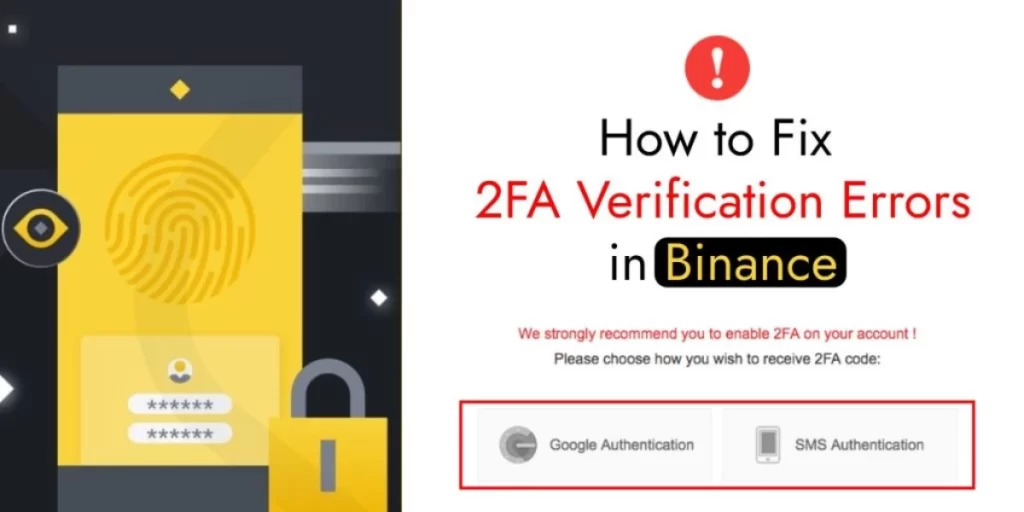 1. Setting the Right Time
For your device to generate accurate 2FA codes, its clock needs to be set correctly. To do this:
Go to your device's settings.
Find the "date and time" settings.
Make sure the time is correct.
Enable "automatic time updates".
2. Syncing Your Device
Your device needs to be in sync with Binance's servers for the 2FA codes to be spot on. To re-sync:
Ensure your device is connected to the internet.
Log out and close your Binance account.
Re-open Binance and log in again.
3. When you Lose or Misplace your Authentication Tool
Losing your authentication device or having your account tampered with can disable your 2FA codes. To tackle this:
Go to Binance account security settings.
Click on "Manage 2FA".
Choose "Reset 2FA".
Follow the reset instructions.
4. Resolving Binance Server Issues
If your 2FA issues persist even after rectifying the above issues, it could be a server problem. In such a situation, you can:
Check Binance's status page for any ongoing issues.
Wait for a bit and try logging in again.
Reach out to Binance's customer support for help.
Also Read: How to Transfer BNB from Binance to Trust Wallet?
How To Reset 2FA on Binance
To reset your 2FA on Binance, follow the same steps you took while recovering your lost or compromised authentication method.
Log in to your Binance account in your PC web browser.
Click on [Security] – [2FA], and then click on [Reset].
Follow the respective instructions that apply to your situation.
However, remember that resetting your 2FA can temporarily block your account and ban you from withdrawing funds for 24 hours. So, keep a backup of your 2FA recovery code before initiating a reset.
What if the Binance 2FA reset doesn't work?
There can be bumps on the road during the reset process. You might enter the wrong 2FA recovery code, the account could be temporarily disabled, or server problems could arise. In such cases, double-check your recovery code, wait for 24 hours, and try resetting your codes again. If the problem persists, it is advisable to contact customer support.
How to Access Binance without 2FA?
Accessing Binance without 2FA is not normally recommended due to security reasons as it serves as an extra layer of protection for your account. However, there can be instances such as losing your phone or forgetting your 2FA backup key where you might need to access your account without 2FA.
Also Read: How To Retrieve "Binance Withdrawal Successful But not Received"
Here's how you can access Binance without 2FA:
Step 1: Open the Binance Login Page Visit the Binance website and click on the "Log in" button.
Step 2: Click "Forgot Password" Since you can't go through the 2FA process, you will need to reset your login credentials. Under the "Password" field, click on the "Forgot Password" option.
Step 3: "Email Verification" Enter the email address that you used to register your Binance account and confirm that you're not a robot. Binance will send you an email containing a verification link.
Step 4: "Reset Password" Once you click the link provided in the email, you'll be redirected back to Binance where you can "set a new password".
After resetting your password, you should be able to log back into your account using the new password. Remember to set up 2FA again to ensure the security of your account in the future.
If you have lost your 2FA device and also don't have the backup key, you will need to contact Binance Support at +1(888) 985-7618 and follow the procedures to reset your 2FA.
Conclusion
By following this guide, you should be able to resolve the most common 2FA issues on Binance. If you still encounter problems, remember, that Binance's customer support team is just a click away to assist you.
FAQs – Related to 2FA Verification on Binance
Can I set up 2FA on multiple devices for Binance?

Yes, you can set up 2FA on multiple devices. When you first set up 2FA, the same QR code can be scanned by different devices, and they will all generate the same codes. However, do bear in mind that every device used can be a potential security risk if lost or compromised.
How secure is my Binance account without 2FA?

While Binance employs advanced security measures, not having 2FA enabled increases your account's vulnerability. 2FA provides an extra layer of security by requiring not just your password and username, but also a code generated by your personal device. Without 2FA, if your password gets compromised, your account can be more easily accessed.
What should I do if I've lost my 2FA device for Binance?

If you've lost your 2FA device, first, don't panic. Log in to your Binance account through their website and navigate to the security section. Click on 'Reset' next to the 2FA option. Follow the instructions provided. If you have your 16-digit backup key, you can simply use that to set up the 2FA on your new device.
What happens if I forget my 2FA backup key?

If you lose your 2FA backup key, you'll have to reset your 2FA through Binance. This involves providing your email address, completing their puzzle verification, and selecting 'Lost Google Authentication.' Then, you will need to follow the instructions for account validation.