Unlocking the full potential of your Crypto.com Visa Card is crucial to experience seamless crypto-fiat transactions and start using it for your day-to-day purchases. This guide will walk you through the benefits of using a Crypto.com Visa Card and the complete step-by-step latest guide to Activate Your Crypto.com Visa Card.
Also Read: How to Fix Crypto.com App Not Working Issue?
Here are some of the benefits of using a Crypto.com Visa Card:
Earn rewards in the form of CRO, the native cryptocurrency of Crypto.com, for every purchase made.
Freely convert your cryptocurrencies into fiat currencies at any time.
Get access to exclusive discounts and deals from Crypto.com partners.
Be assured of the safety of your funds, thanks to the robust security measures in place.
Complete Step-by-Step Guide to Activate Your Crypto.com Visa Card
Step 1: Getting Started
Basic requirements for activating your Crypto.com Visa Card include:
Possession of the physical card.
Existing Crypto.com account.
Crypto.com application installed on your mobile device.
Step 2: Unwrapping Your Crypto.com Visa Card
Your Crypto.com Visa Card ships in a secure package, identifiable by unique tracking details. On receipt, open the package cautiously to retrieve the card, which carries your personal details, card number, and expiry date on the front, with the CVV code and security hologram on the back.
Step 3: Locating the Activation Code
The activation code for your Crypto.com Visa Card, a 6-digit number, is located on the card's back, next to the CVV code.
Step 4: Crypto.com App Installation
The Crypto.com app is available for download on the App Store or Google Play Store. Post installation, initiate the app to either register a fresh account or log in to an existing one.
Step 5: Account Registration
For new users, account creation is mandatory for card activation.
"Register" using your email ID,
"set a password", and accept the terms of service.
Post registration, "confirm your email ID", and "complete your KYC" checks.
Step 6: App Navigation
Once logged into the app, click on the "Card" icon situated at the bottom-right corner,

taking you to the card management page. You can view card details, add balance, and activate your crypto.com visa card here.
Step 7: Crypto.com Visa Card Activation Process
To start the activation process, click "Activate Physical Card" and type your card number and expiry date.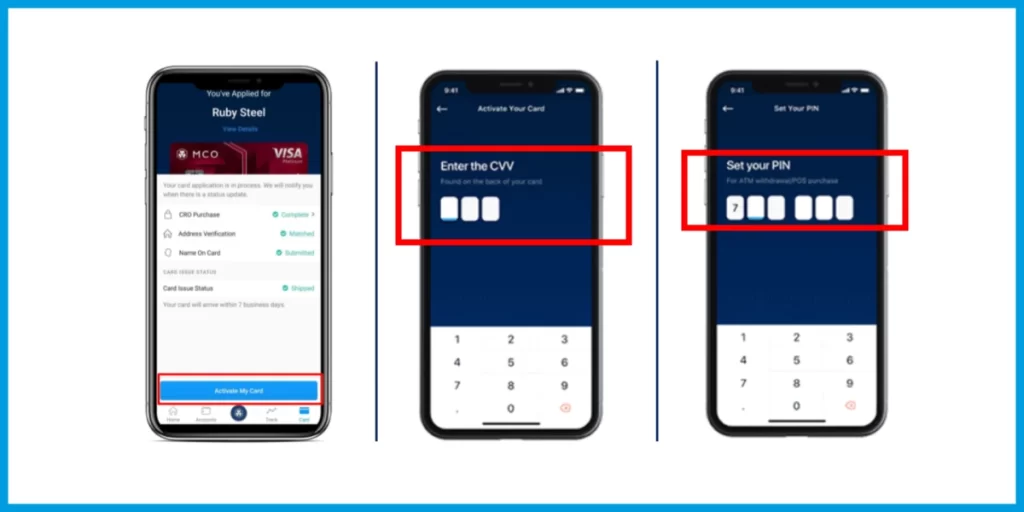 Step 8: Inputting the Activation Code
Type in the 6-digit activation code from the back of your card, then click "Confirm".
Step 9: Visa Card Activation Confirmation
A successful activation generates a confirmation notification on the screen. Your card is now active and ready for use.
Step 10: Setting up Security Measures
Boost up your card's security with additional features like:
2-factor authentication (2FA)
Setting spending caps
Transaction alerts
Navigate to "Settings" on the card management page and select "Security" to enable these features.
Step 11: First Transaction
For your first transaction, the Crypto.com Visa Card can be added to your mobile wallet or used with any merchant that accepts Visa cards. "Enter your PIN" for in-person transactions, and "CVV code" for online transactions.
Conclusion
The process to activate your Crypto.com Visa Card is simple and lets you enjoy its extensive benefits. Make purchases, withdraw crypto, and earn CRO rewards, all with your activated card. Visit the Crypto.com site for more details on the Visa Card and its features.
Additional Assistance and Tips for Crypto.com Visa Card
Facing issues with card activation? Reach out to customer support for help.
Ensure the safety of your card details. Never disclose your card number, PIN, or CVV code.
Be mindful of fees associated with the Crypto.com Visa Card, like ATM withdrawal charges for crypto.
FAQs – Related to the Visa Card of Crypto.com
How can I earn rewards with my Crypto.com Visa Card?

With a Crypto.com Visa Card, you can earn rewards on every purchase you make. The rewards are given as cashback in the form of CRO, Crypto.com's native cryptocurrency. The percentage of cash-back rewards you earn depends on the type of card you possess, ranging from 1% to 8%. Moreover, you can earn additional rewards or benefits like Spotify, Netflix, and Amazon Prime subscriptions depending on the card tier.
What to do if my card activation fails?

If your card activation fails, double-check to ensure you entered the right information and details. If the issue persists, you can contact Crypto.com's customer support through the app or website. It would be helpful to provide them with details about the issue you're experiencing so they can assist you more effectively.
How do I add additional security to my Crypto.com Visa Card?

You can add additional security to your Crypto.com Visa Card in multiple ways. One way is by enabling two-factor authentication (2FA) in your account settings. Another security measure is by setting up biometric authentication, if your device supports it, such as fingerprint recognition or facial ID. Additionally, always ensure that your Crypto.com app is up-to-date with the latest security patches.